November 2023
Happy Thanksgiving everyone!  We are so thankful for everyone that lets us be a part of their family celebrations with a special outfit or a Jellycat friend for the plane/car ride to visit family. 

As we're in our 13th year, little babies we outfitted that first year are now middle-schoolers who have long outgrown our clothes, but those special photos from way back when will last forever & we are so glad you let us into those memories.

I hope everyone's holiday is wonderful and Happy Thanksgiving!!

We are starting our weekend sale early & hope you choose to support Tiny Hanger as you shop this holiday season.  We know you have lots of choice in your shopping & we hope we make it easy & cute to shop with us, & all of the other small businesses near you.  Still after 13 years, I shout out to whomever is near me "we got a web order" every time one comes in!

No code needed for the sale, just shop away! (holiday/sale is final sale)


xoxo, Lucia & the Tiny Hanger team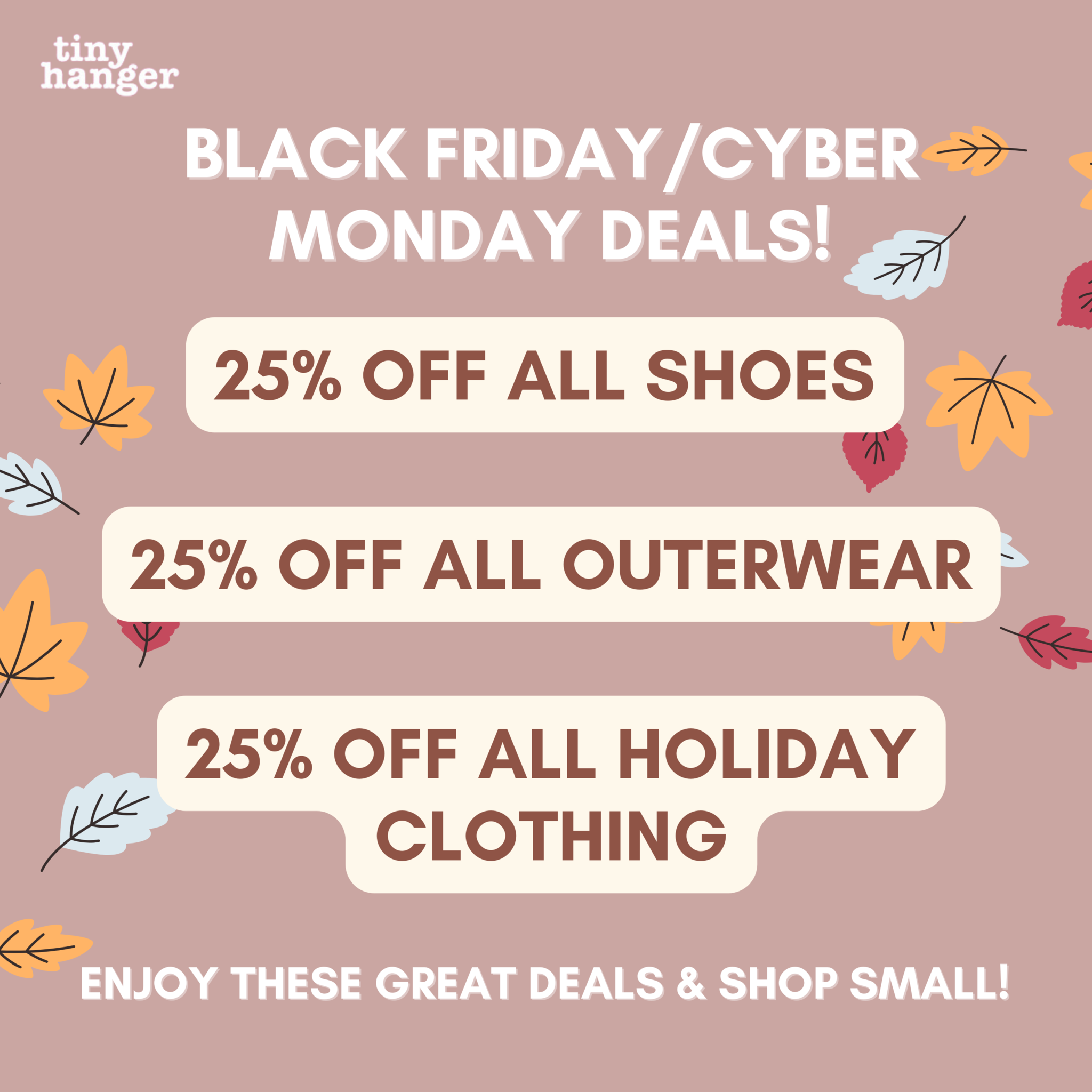 October 2023
It's our favorite time of year when Silhouettes by Erik comes to capture your little ones!
Sign up now and get the first pick of times!  Click below to sign up in Brookline or Wellesley.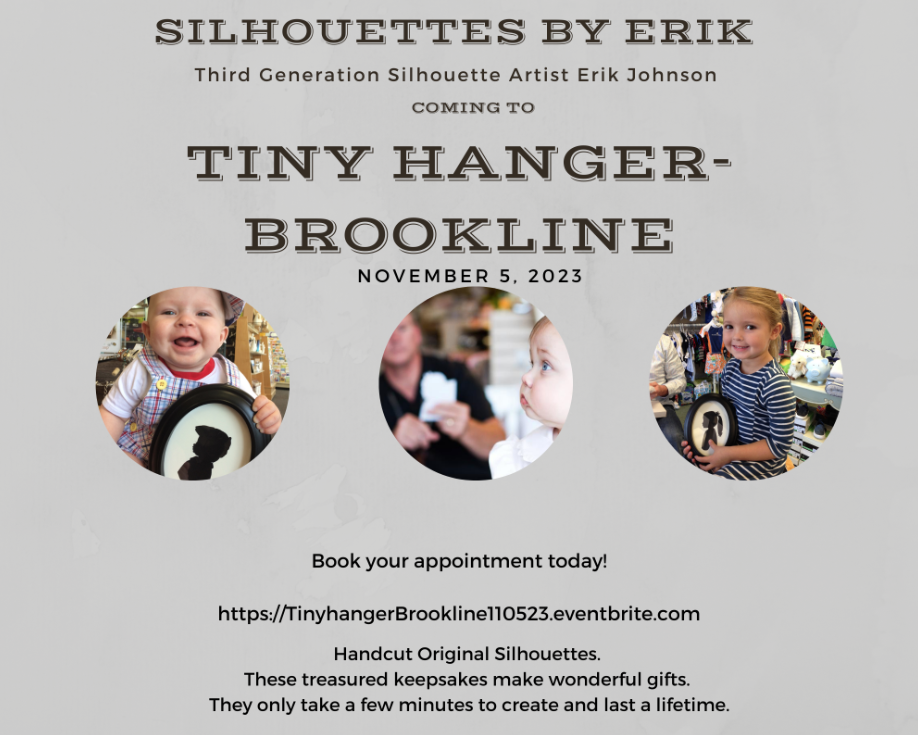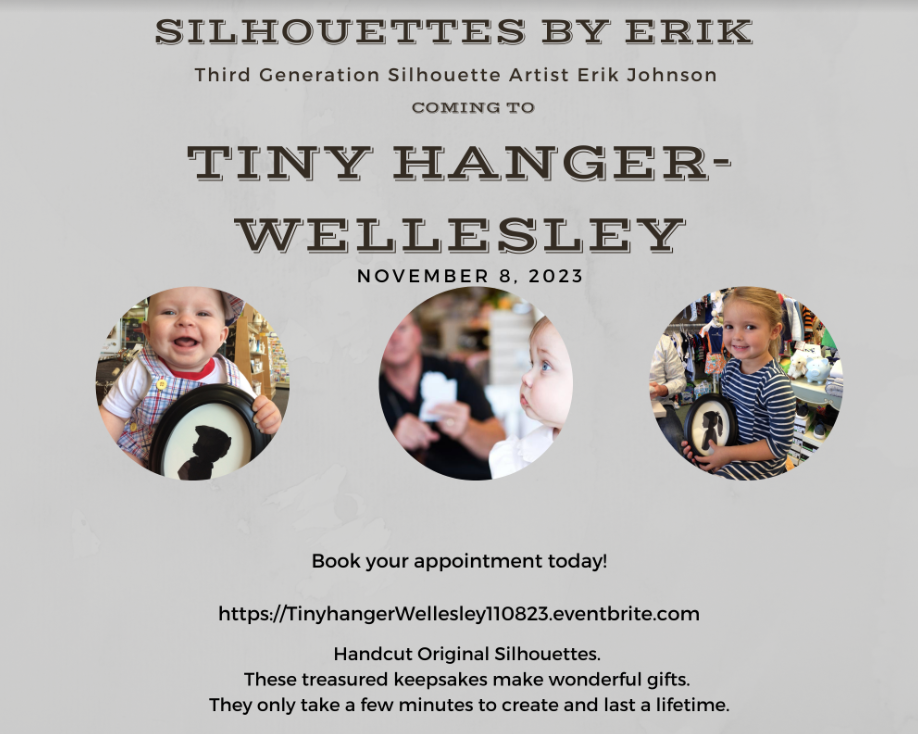 August 2023
Are you a "still summer" or an "all in for Fall" person?  Either way we've got you covered with sale on summer items great for these transitional times & new Fall to refresh the wardrobes.

& don't forget its tax free weekend so that's like 6% off all Jellycats, toys & backpacks!

Almost all summer clothing & shoes has been marked down.(adding items daily online, it's a process!)

New stock coming in daily! New brands like L'Amour shoes, new JellyCats & a new backpack company with the cutest patterns.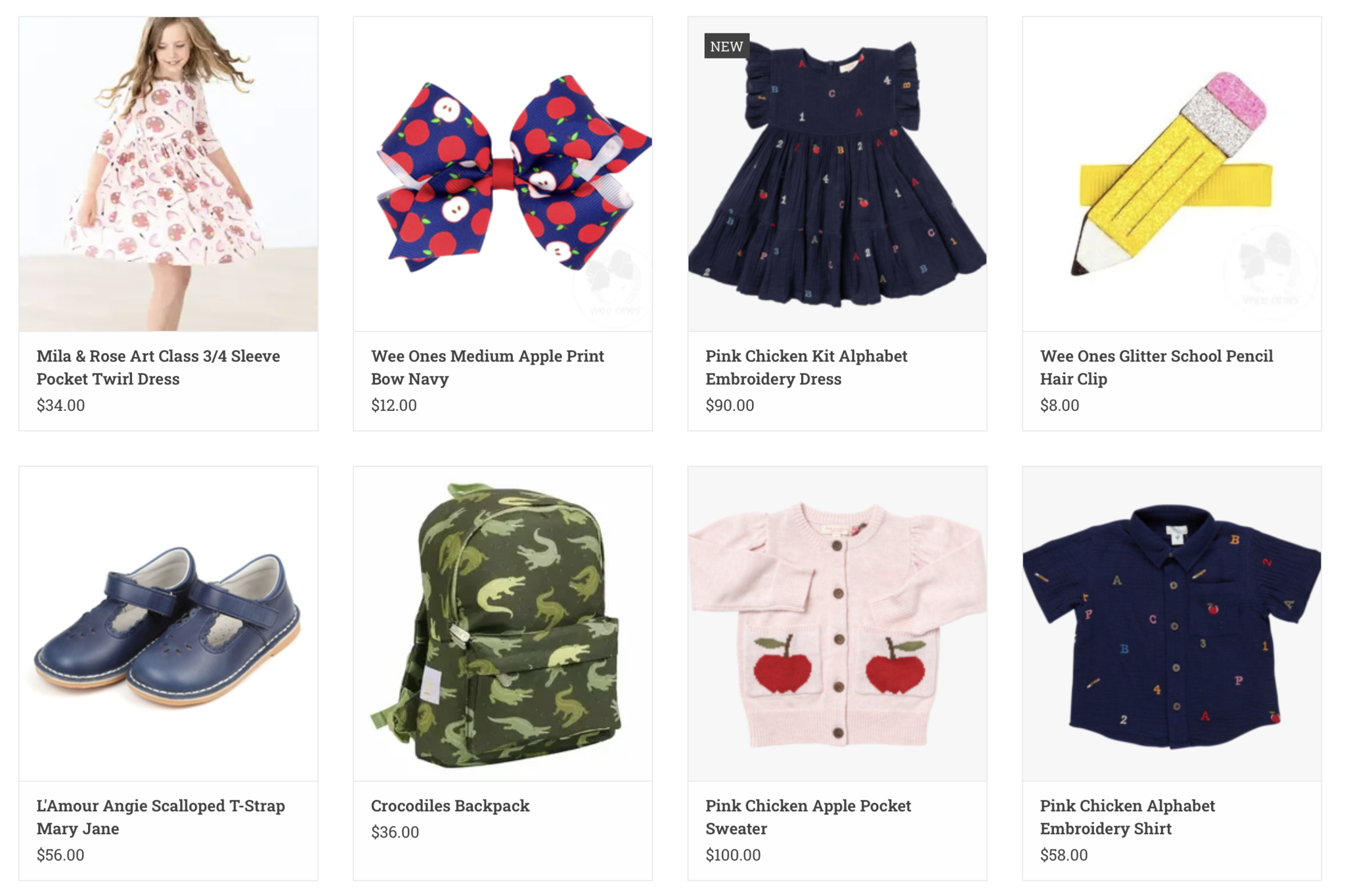 July 2023
July 27-30th!
Thursday until Sunday!
When we say don't miss this Brookline Sidewalk Sale, we mean it!
In addition to our usual fab sale, we will be hosting a Mayoral Sample Sale.  
We have all new Fall 2023 Mayoral Samples on sale for $5, $10, $15, $20 & all winter coats $35 in sizes- nb, 12m, 4y, and 8 years! 

We will have our usual fab shoe sale with deep discounts & 50% off select See Kai Run & 50% off all prior season BOGS & See Kai Run winter boots! Time to size up!

Almost all summer clothing & shoes has been marked down 25%.(adding items daily online, it's a process!)

New stock coming in daily!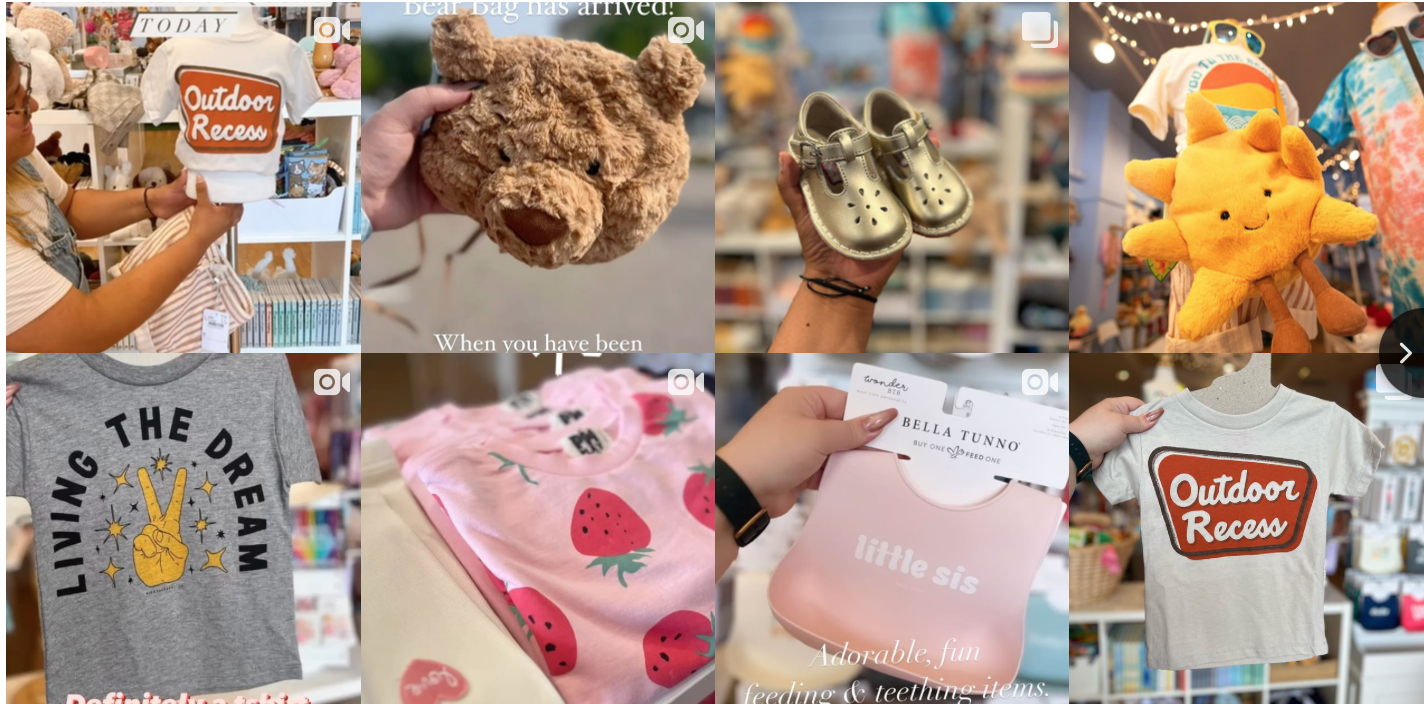 June 2023
It's Father's Day this Sunday & if your kids are like mine, they love to get Dad gifts that are secretly for them! Linked below are some we think will please both dad & kids.


Linked below are some fun summer themed items! We have been restocked of great times to grab & go for those weekend birthday parties. We will wrap them so you are party ready.

Lastly, new JellyCats arrive starting tomorrow. We are a HUGE retailer of these fan favorites & they will be instore & online asap!
February 2023
Love is in the air. And, more importantly, in our fashion. In honor of the season,
I've rounded up a countdown of the top five things I'm loving for Valentine's Day at Tiny
Hanger. Whether you're shopping with us locally in Brookline and Wellesley or looking
online, there's something for everybody to love!
At the top of the list are these Hatley heart raincoats. Available in both baby and big kid
sizes, these cozy lined raincoats are the perfect way to keep your little ones dry and
adorable this season, no matter what weather comes their way. Plus, the hearts on
these coats change color in the rain, and who doesn't want to see that?
This simple yet adorable off-white coverall features an embroidered heart over your
baby's real heart (and one for their backside!). It's a comfy choice, and there are
matching long sleeved tops in both baby and big kid sizes, making this great for
siblings!
Here's another item that anyone can love, regardless of age. Mimi and Lula is a new
brand for Tiny Hanger, and I've already fallen head over heels for these clips. These
sparkly mini clips come in a pack of six, two of each color, perfect to mix and match or
to wear in pairs.


Get ready for these backpacks to steal your heart, because they've certainly stolen
mine. Featuring adjustable straps to fit any size, from toddler to adult, this backpack is
perfect for anyone who loves love. And if you end up carrying it yourself, well, I certainly
won't tell!

5. True love Pizza tee

Calling all pizza lovers! Your little one can declare their devotion to their favorite food in
style with this adorable design featuring a slice of heart-studded pizza. Available as
either a t-shirt, or, my favorite, as a baseball style shirt, you can't go wrong with these
Rivet Apparel styles. After all, who doesn't love pizza?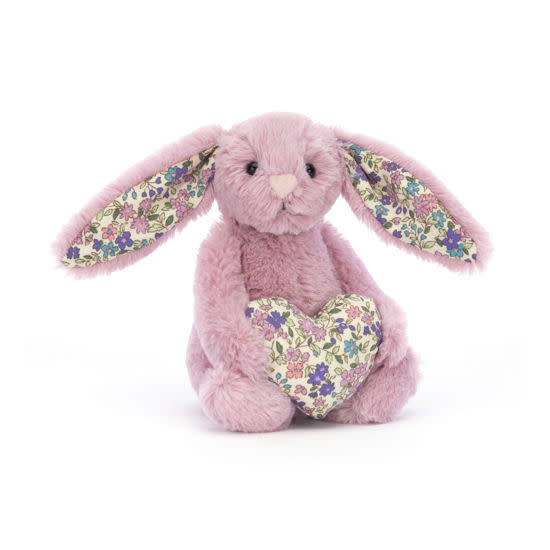 This list would feel incomplete without at least a passing mention of our Valentine's Day
JellyCats, such as these adorable bunnies. Available in either Tulip or Blush colors,
these little buns hold their (plush, floral) hearts out, ready for love.
September 25, 2020 National Daughter's Day!
It's the most wonderful day of the year & I am so happy to have a daughter & so happy to have a daughter that inspired Tiny Hanger!  For those of you that don't know our story I thought I would tell you! Olive is 13 now & too big to fit in the clothing but she helps out with buying the cute Jelly Cats & working the register!
Before Tiny Hanger I stayed home with Olive taking care of her until she went to preschool. Once she went to school, I knew I had to make a decision on going back to work.  I was a Social Worker for over 15 years prior & had to decide to go back to that or start the store which I had been thinking about for several years.  I found it hard to find unique, cute clothing in the Boston area & decided to jump in a try my hand at opening a children's boutique! 
That was in October of 2011 & we are still going strong today. It has been wonderful, hard & everything in between over the years but it gives me flexibility to bring my daughter to work & the chance to be creative every day!

July 28,2020
Our Famous $25 Shoe Sale will be Tuesday July 28th 9-10a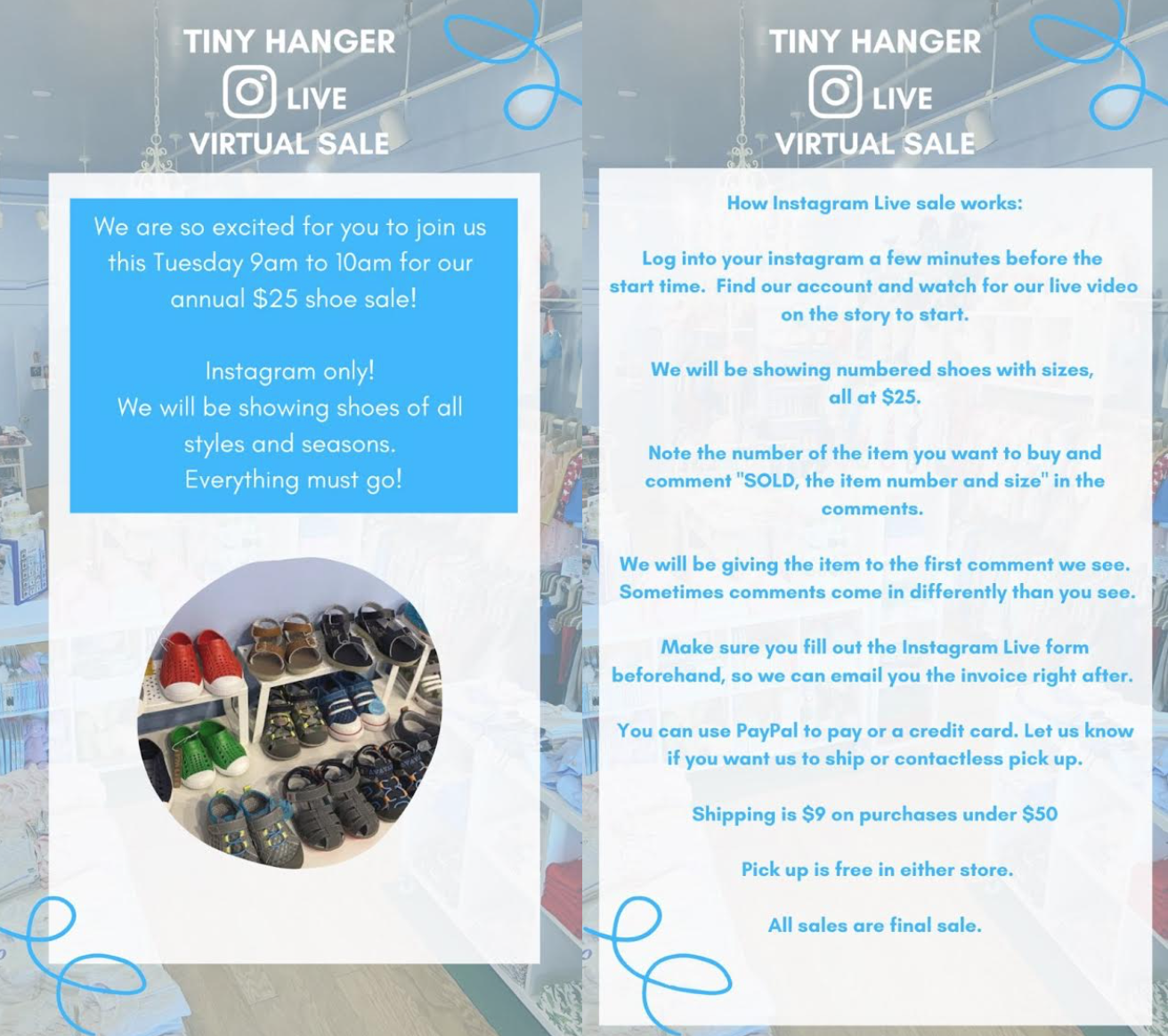 June 7, 2020
Reopening is happening!
We have been given the go ahead to reopen on Monday, June 8th & while I am a bit emotional to leave the cocoon of our house & enter a world that is going through many changes, it is time to get back to work & we couldn't be more excited!
Opening dates:
Brookline opens 6/8 Monday 10-5
Wellesley opens 6/9 Tuesday 10-5
NEW hours:
Brookline everyday 10-5
Wellesley Monday- Saturday 10-5, Sunday 11-4.
For guests who prefer to schedule a more private experience, we are taking personal appointments for shopping at 9:30am and 5pm when we are closed to the general public. Appointments can be made via phone, email or facebook appointments. We really recommend this for shoe shopping as we will be able to give you one on one attention to find the perfect fit for your little one. This special attention may be difficult for us to give during regular store hours due to social distancing and staffing requirements. Bring socks! They must be worn to try on shoes.
We are carefully following the guidelines put out by the State to keep our staff and customers safe. We have organized to give everyone more space to social distance. In addition to disinfecting our entire space regularly, we will be posting limited occupancy in both our stores. A hand sanitizing station will be provided for guests, and masks are required at all-times for everyone. We will be marking our floor to remind all of social distancing.
It is a very difficult time for us all. I'm thankful Tiny Hanger has made it through these past three months, and hope we can continue to serve you for years to come. This is all new to everyone and we are being required to do this all with less staffing able to be in the store. Safety is our number one priority. Please be patient as we strive to make your in-person shopping experience as seamless as possible. We care, let me know directly any way we can be better.  [email protected]
We're a small business, we need you and can hardly wait to see you again!
Here are the details:
Masks required. Kids included as per MA rules.
Sanitize upon entering. (Touchless stations coming soon.)
Please maintain 6 foot distancing.  You will see tape on the floor to help with this.
Our plastic counter guards are on order! Please give us space while we are checking out. Wrapping may take more time than usual.
Please keep kids in strollers to reduce touching items.
In store pick up is still happening and an easy way to shop with us. Just shop online and choose in store pick up at check out.
All of this may change as we go.  Please be patient and kind. Every store is learning as we go and kindness goes a long way. We will have less staff as we continue to ramp up business.  If you have suggestions, concerns or praise email [email protected]



May 22, 2020
We had so much fun seeing you during last weeks virtual sidewalk sale, we will be bringing these to you more often! Sign up for our newsletter (on home page) to get notifications.  We have changed the process a tiny bit to make it easier for us.  
Register and click here to sign up in advanceso we can send invoices directly to you. You must fill out this form for us to be able to process your order. You only have to do this once and you will be ready for all virtual shopping.
Look out for schedule posted on social media and our newsletter.
We will be showing numbered items with pricing info. 
Note the number of the item you want to buy and comment "SOLD and the item number"in the comments. If you only write SOLD we won't be able to give you the item as we won't know which you want.
We will be giving the item to the first comment we see.  Sometimes comments come in differently than you see on your screen.
Check your email for an invoice from us.  It should say "Pending Payment" in the subject.  
You must pay within 24 hoursor the next person will get the item.
You can use PayPal to pay or a credit card.
Let us know if you want us to ship or contactless pick up.
Shipping is $9 (you only have to pay this once as we can group your items together.) 
Contactless pick up free in either store.
During the LIVE you can ask questions in the comments.  We hope to answer as many as we can.
May 11, 2020
Shop Small, Save Big!!    1st VIRTUAL sidewalk sale
We are so excited to host our 1st VIRTUAL sidewalk sale on Instagram hosted by Linden Square.  We will be featuring past season spring/summer items at 50% off! 
Tiny Hanger will be going LIVE on Instagram as follows:
May 13 10-11amfeaturing baby boy & girl items 0-24m
May 14 1-2pmfeaturing big girl 2-8 years
May 15 10-11am featuring big boy 2-6/8 years
Here's how we hope it works!
Log into your instagram a few minutes before the start time.  Find our accountand watch for our live video on the story to start.
We will be showing numbered items with pricing info. Deals will be good!
Note the number of the item you want to buy and comment "SOLD and the item number"in the comments. If you only write SOLD we won't be able to give you the item as we won't know which you want.
We will be giving the item to the first comment we see.  Sometimes comments come in differently than you see.
Check your direct messages.  We will be asking for your email in the DM's so we can send an invoice via PayPal for you to pay. Feel free to DM us with your email and item number to speed up the process. You must pay within 24 hoursor the next person will get the item.
You can use PayPal to pay or a credit card.
Let us know if you want us to ship or contactless pick up.(UPDATE- NO PICK UP IS ALLOWED PER THE TOWN_WE CAN HOLD ITEMS UNTIL THAT ORDER IS LIFTED THOUGH)
Shipping is $9 (you only have to pay this once as we can group your items together.) 
Contactless pick up free in either store.
During the LIVE you can ask questions in the comments.  We hope to answer as many as we can.
All sales are final sale.
Kenzie and Hope and Sara Campbell will also be part of the sale.  Check here for full schedule.
April 2020
Go crazy & save while the shop is closed. We are shipping on a regular basis with USPS priority mail.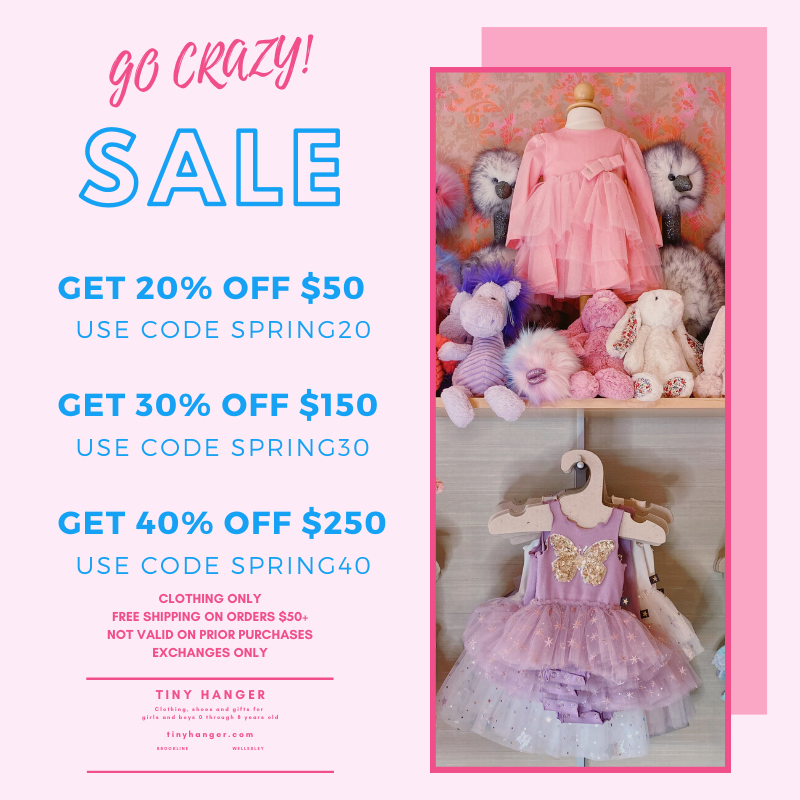 Easter 2020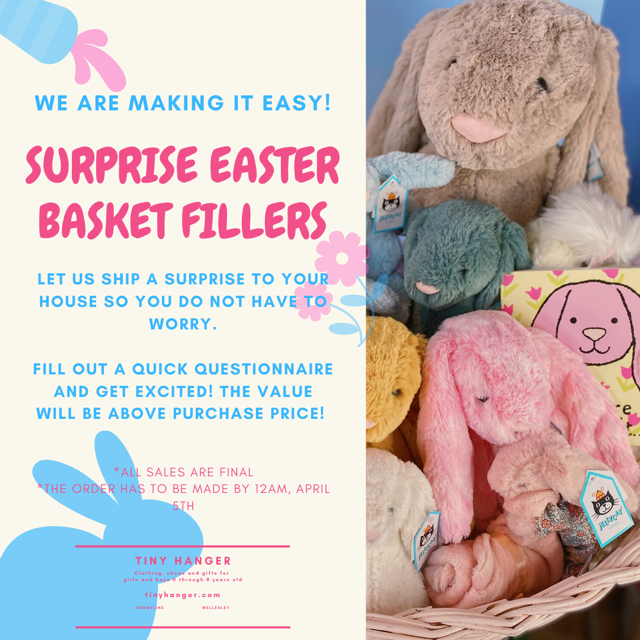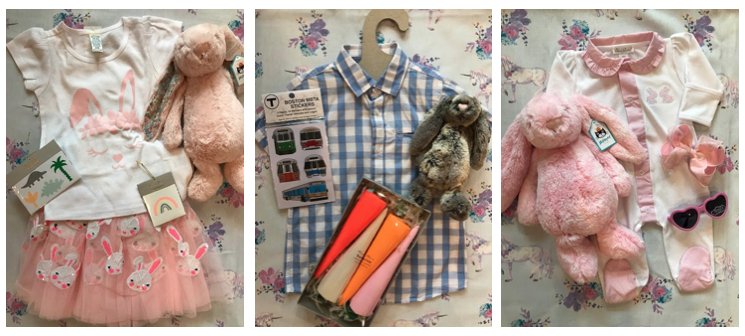 Fall Favorites



 
Brookline, Newton kids take fashion-forward steps back to school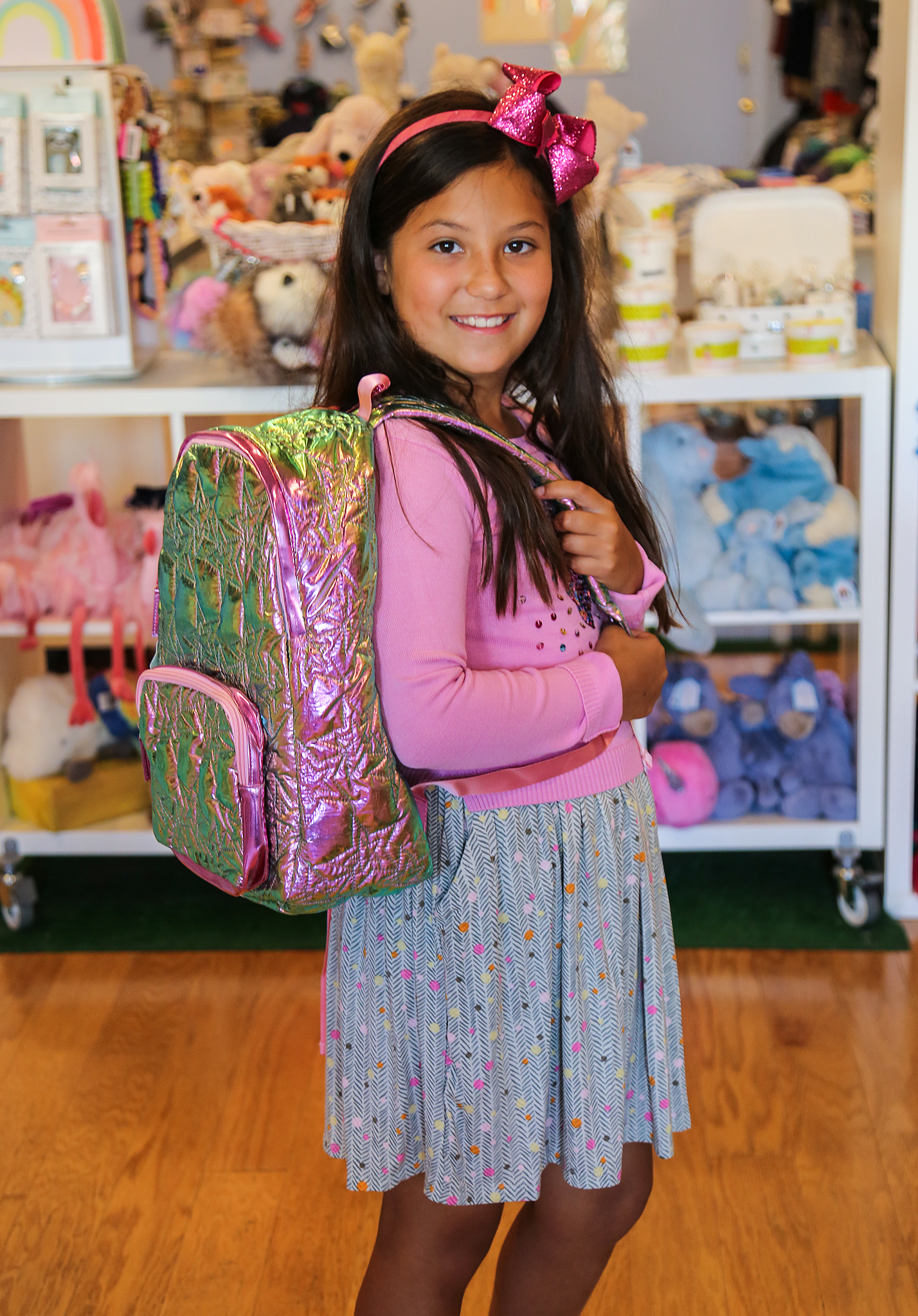 Although they're not walking the red carpet, students usually like to look their best and wear the latest trends as they head back to school. Several local, independent kids' clothing shops recently offered advice on what's in this year as students and their parents gear up to go shopping.
Tiny Hanger, 314 Harvard St., Brookline and 200 Linden Square, Wellesley
Owner:Lucia Berman-Rossi
What are some staples you always keep in stock for the fall for going-back-to-school season?
Every back-to-school, kids want a tutu dress, like a comfortable, easy-to-wear dress with a tutu that could be dressy or play for school.
Things with dinosaurs and interactive things for the kids is very popular, for the boys especially. We have one shirt with a dino where the teeth will zipper open and shut. We have a lot of pink dinos for the girls this year.
Are there any popular, new trends that you're seeing in back-to-school fashion?
One trend that has been around for a while is reversible sequins. This year, we have a lot of boy [clothing with] reversible sequins, because boys want sequins too. We have a robot reversible sequin sweater.
Anything the makes your child smile and have a great first day is the right outfit. It doesn't have to be Instagram-perfect, it just has to be perfect for your child to feel happy and comfortable!
Are there any hearty brands you'd recommend that stand up to wear and tear from play, dirt and multiple washings?
Our Egg brand, Joules, Mayoral. Customers constantly come back and say, "Three kids have worn this outfit." So I would say overall, most of our brands get passed down many times.
What are some of the strangest or most unusual clothing styles or accessories you've carried in the past – or now?
I can't really think of anything strange or unusual that people have liked. They just like bright, colorful clothing for the kids.
One other good back-to-school thing is getting a new lovey for school helps with the transition.
When do parents/caregivers usually look for school items?
I'd say starting this week through the next month. One thing we do hear is that people like to shop early for things. They want to get the snow pants, even if it's 80 degrees out. Beginning of September, people will start buying the coats, because if we have this amazing, sparkly pink coat, they don't want it to sell out.
Find the rest of the article here!
Cleaning those Native Shoes and Sandals!
Everyday we hear parents gushing over our Native shoesexclaiming how cute they are.  They are soft, easy to put on and totally cute!  They are made from a rubber that is odor resistant, shock absorbent and hand washable.  They are made to fit a child's foot more like a regular shoe would fit, not like some other competing shoes that just seem to be floppy and big. You can even run in Native sneaker.  Kids and parents love the cuteness too!  I even have a pair for myself!

The biggest concern I hear about Native kids' shoes is how to keep them clean. Native says to run warm water over the shoe, use a soft cloth or brush to wash them with mild soap and rinse, let dry out of the sun as not to warp them.  Well the other day it was time for me to wash my Natives and a basic wash got  the dirt off but it didn't clean the white top part. So Mr. Tiny Hanger suggested the perfect dad hack!  He suggested using a magic eraser to clean the white part and it totally worked!  Brand new Natives!  I would suggest a VERY light rub with the eraser as if you press hard I am sure you will damage the plastic and it will be rough. Check out this before and after picture and enjoy your clean Natives!
Please note Native has a new shoe recycling program called the Remix Project and we are a proud partner, collecting old Native shoes and submitting them to Native for recycling.  They will turn them into new things like seating, playground flooring, insulation and more! So bring them in and help create a less wasteful world. We can accept them in our Coolidge Corner, Brookline and Linden Square, Wellesley shops!
We've got lots of styles and colors to choose from in sizes 4-13 youth! Come in and let us help you find the perfect size. Don't live local?  Just $1 shipping to get those Natives delivered to your door!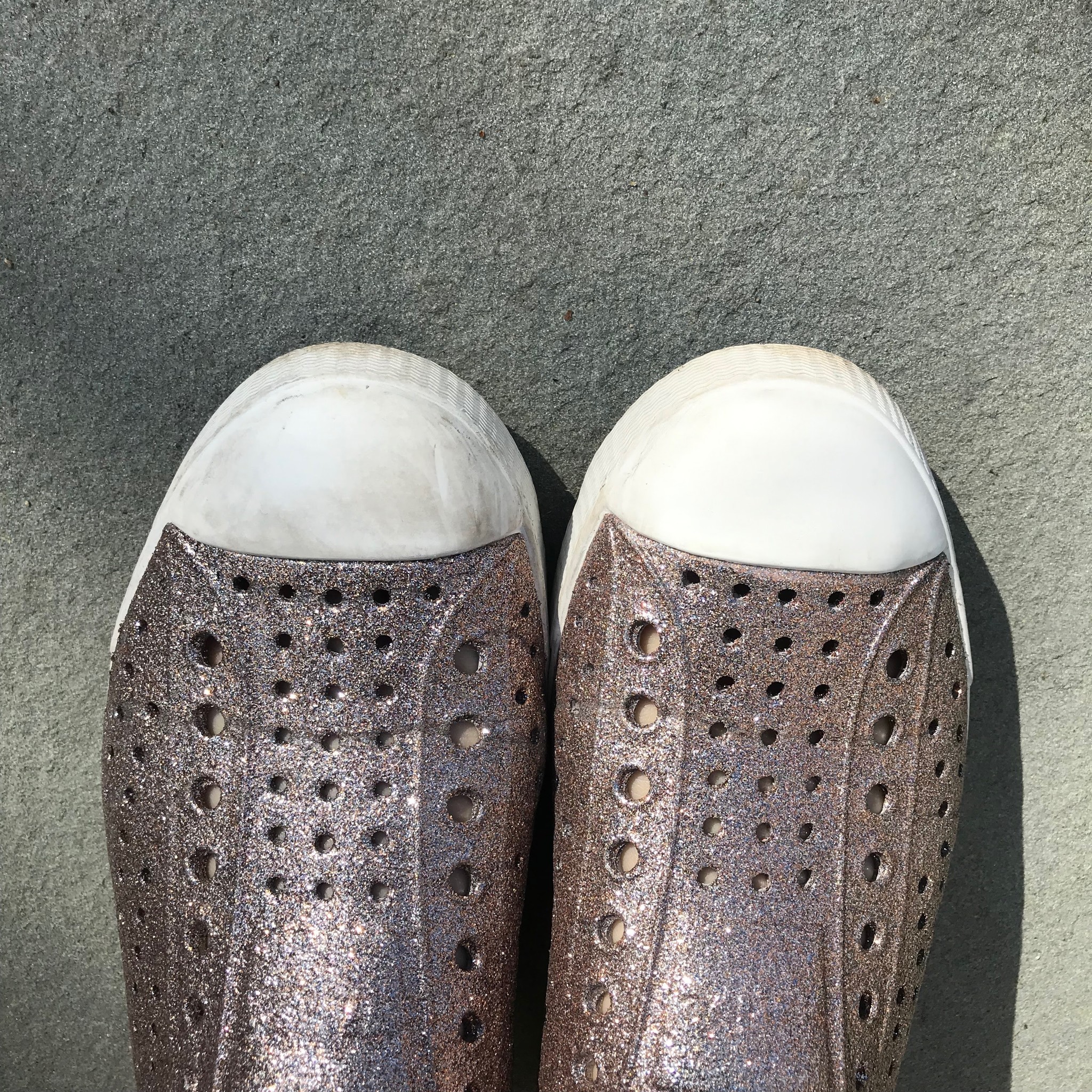 Spring!
While there may be snow still on the ground, here at Tiny Hanger we are gearing up for a gorgeous spring season with more curated cuteness! There are so many things to choose from, but not to worry, our staff has gone through and picked a few items that really 'spring' out at us. Lots of new brands this season so come see whats new.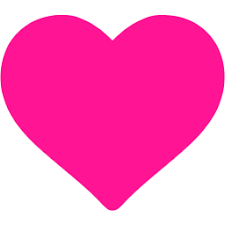 Items we love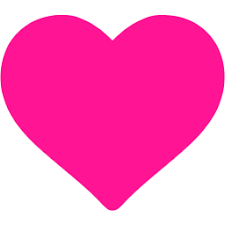 This dress is perfect for layering during these transitional months. A light jean jacket over it or perhaps some leggings underneath. We also love this unconventional print, made in the USA out of organic cotton.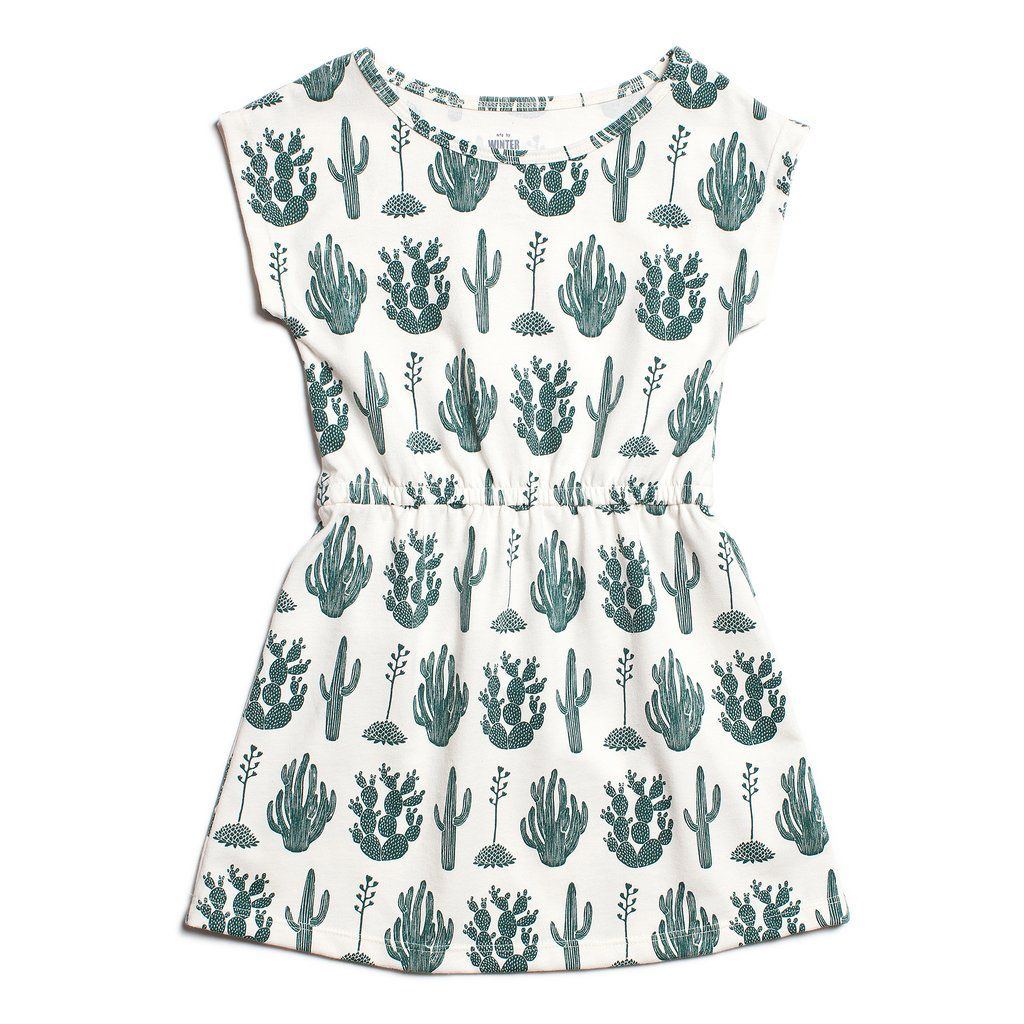 This metallic sneaker is perfect for your girly girl and is easy to dress up or dress down (we love multi-functional!). This is a great way to brighten up an otherwise rather basic pair of jeans and a t-shirt.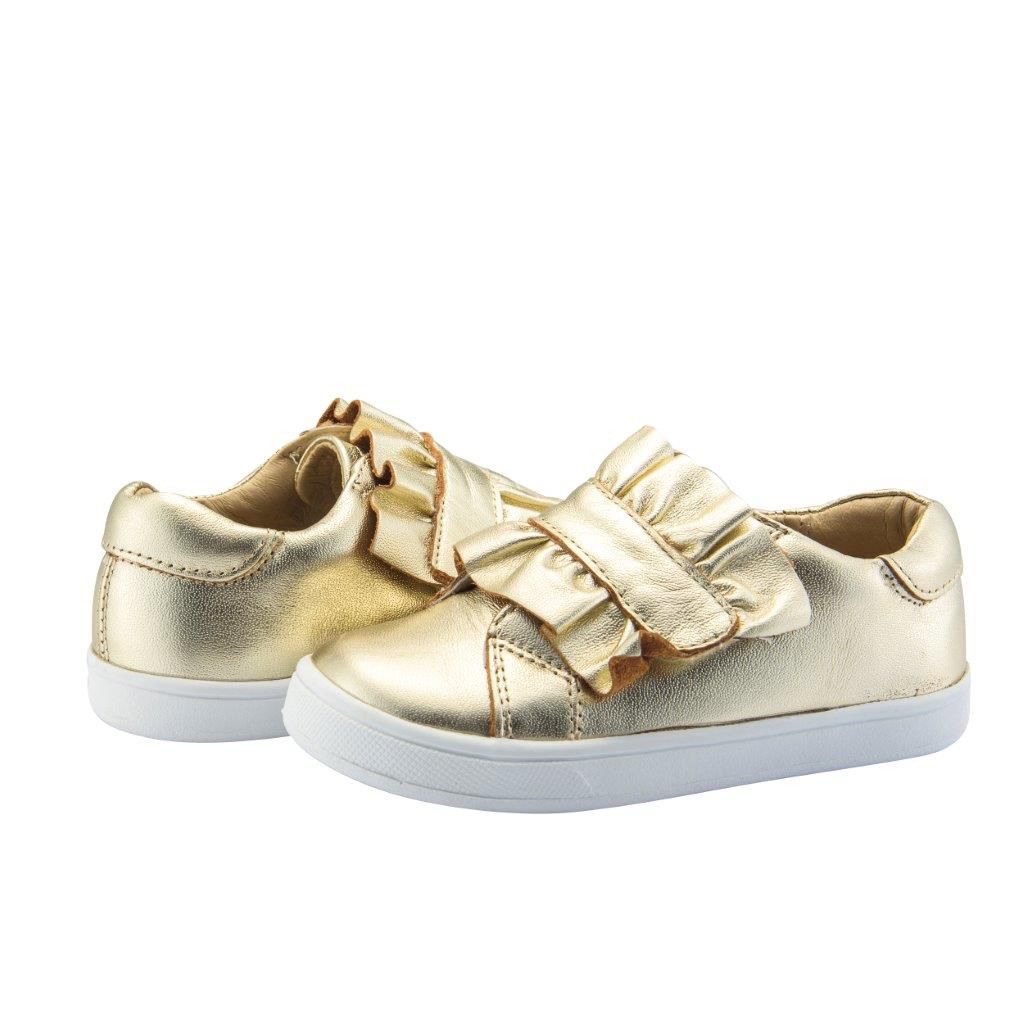 We love the convenience of the snaps all the way down and the matching booties. Bonus- This adorable onesie is made of soft terry cloth to keep your little one all bundled up during this changing weather.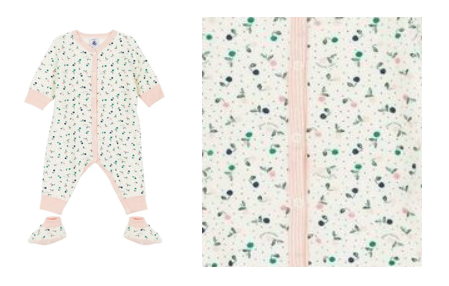 This set is great for those little ones who are 'sprouting' this season. The dress and leggings can be worn together or you can get creative and mix and match some of your favorite pieces with these new additions.  It's made from a soft cotton that parents say last and last!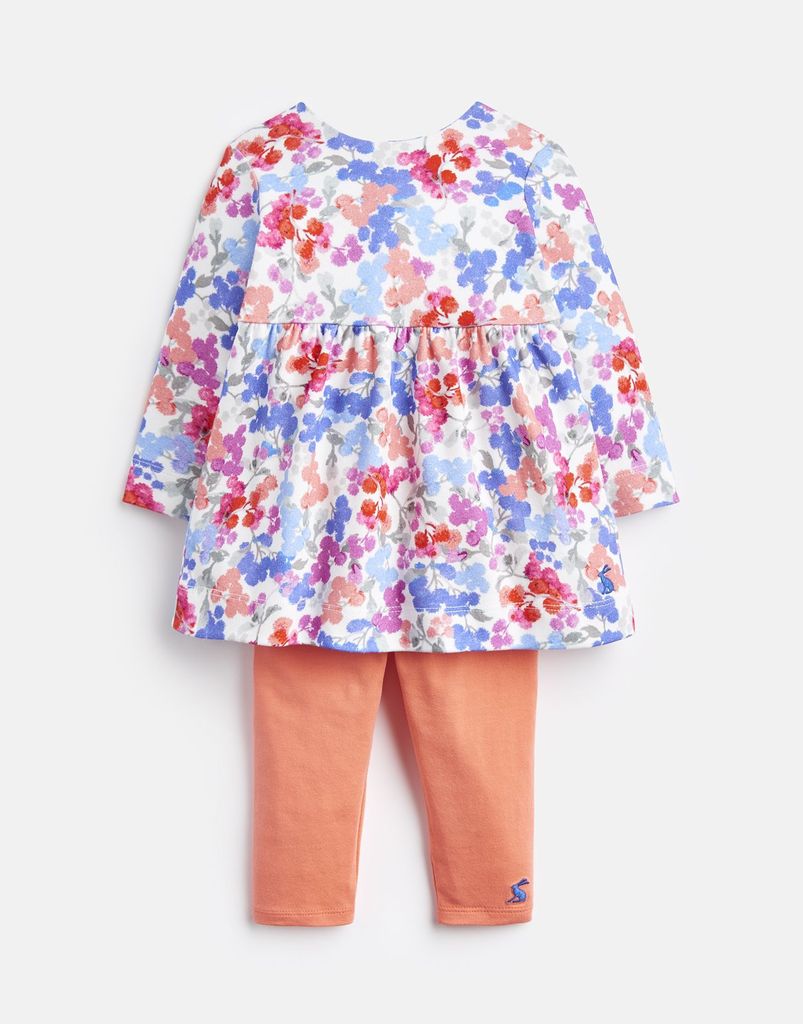 Every kid needs a statement piece! This jacket is great for those chilly mornings at the bus stop and love the sleeve detail. We think the olive green is a great unisex piece and it comes in pink too!

This sneaker is great for those active kids who need a pair of shoes to go from the playground, to home, to a family night out. The hard soles and wider fit of See Kai Run are great for those kiddos who are growing fast and the velcro keeps things snug and secure. Lots of styles for boy and girls up to size 13y, including water shoes, sandals and sneakers.

This classic style from EGG is here in a fun little sea creature print! We love the zipper that goes from top to bottom of your little one making changing super easy. There are also little fold over sleeves that double as mittens to keep your baby's face scratch free!
This stylish knit is both cozy and cute. We love the retro vibe it creates and the striped detailing on the sleeves. Pro tip: This is great over a button down with the cuffs rolled, so preppy and fun!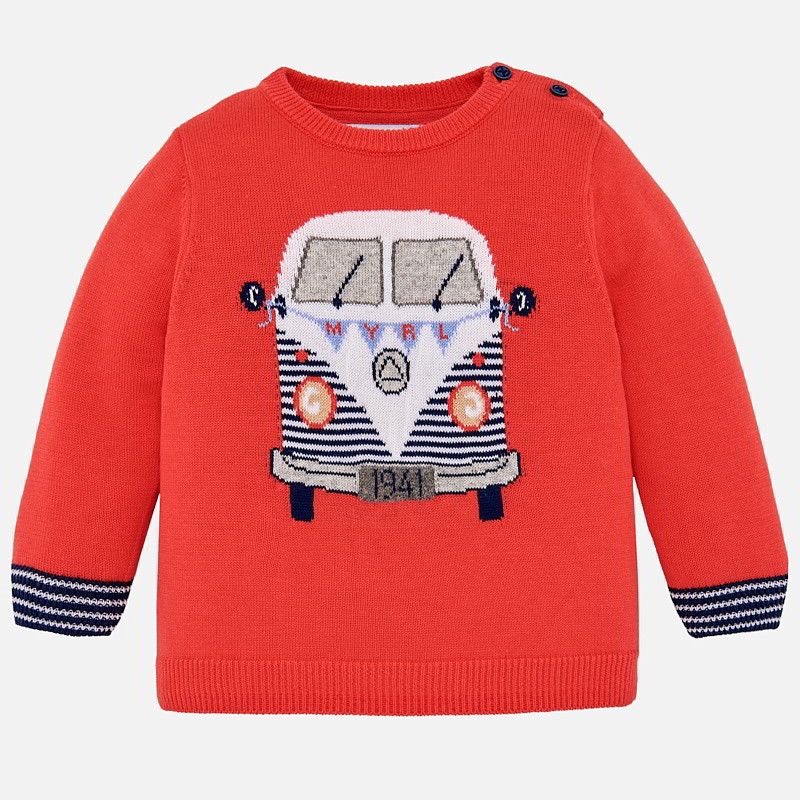 These sunglasses are fashionable AND functional for both boys and girls! These sunglasses have 100% UVA and UVB protection, shatterproof lenses, and flexible frames. If you decide to test the durability, not to worry, there is a warranty!

Did you know that in the month of March we celebrate "National Read Across America Day" AND "International Women's Day" ? Encourage these special days by purchasing this mini book set! Includes stories of Frida Kahlo, Amelia Earhart, Rosa Parks, and Hillary Clinton.
Fall
Fall is officially upon us and while we miss summer,
we  
 Fall!
In our line up this season are smart items, chosen for comfort, wearability, durability and some little wow factor along with, of course, cuteness!
Our waterproof mittenswe have each season are designed not to fall off and to keep those little wrists warm!
We've got lot of lined pants for girls & boys to give an extra layer of warmth in the cold.
Each year we get the "Widgeon" coat for your little ones.  Customers are obsessed with this made in the USA fleece.  We can even monogram it!
Slippersare in and are so cute they won't stay long, especially the unicorn ones of course!
Our 2-8 year old Imoga coatsare beyond amazing and are selling fast.  Not only are they so cute, they are warm and functional for the city- some styles are longer than the average to make the city walks toasty, the hoods come off, as does the fur!
August
We are gearing up for Back To School Shopping! The end of summer is always bitter sweet but we've got some super great kids fashion to get you excited for Fall. Each season we bring in new kids brands and this season we have expanded some of the size ranges for our big kids clothing.  We've got Winter Water Factoryup to age 8 and Mayoralgirl up to age 8 too.  Many of our other girls brands still go all the way up to age 8- Pink Chicken, Egg, Imoga, Joulesand many more.
We have easy $1 USPS priority shipping so if you need it fast, we can get it to you in 1-2 days generally. Check back often- we are getting things in every day!  Also, don't see a size?  Call us as we may have it in or be able to get it for you. 781-235-0005
Do you live by us?  Boston, Cambridge? Newton, Needham?  We are close by to all!
Our Coolidge Corner shop is easy to find right in the center of Coolidge Corner surrounded by lots of other local business to shop at and eat in.  It's a fun historic area and even home of JFK's birthplace just a few blocks from us! We are not far at all from Cambridge, where the owner lives!  It takes her just 10 minutes to get to the shop from Cambridge so don't be scared to cross that BU Bridge!
Our Wellesley location is in Linden Square, right near lots of other great stores.  Find the Roche Brothers and we are on the right hand side of the square.  Lots of parking right in the lot.  
Either store you come to, we will help find the perfect outfits for your little one!  We can dress them from head to toe, including shoes!  There are so few shoe stores around that people come to us from near and far for us for the best children's shoe fitting in town!  We have lots of brands of baby and kids shoes, we know our products very well and can help find the best shoe for your little ones foot, whether they are a first walker or big kid.  We have kids shoes up to size 13y.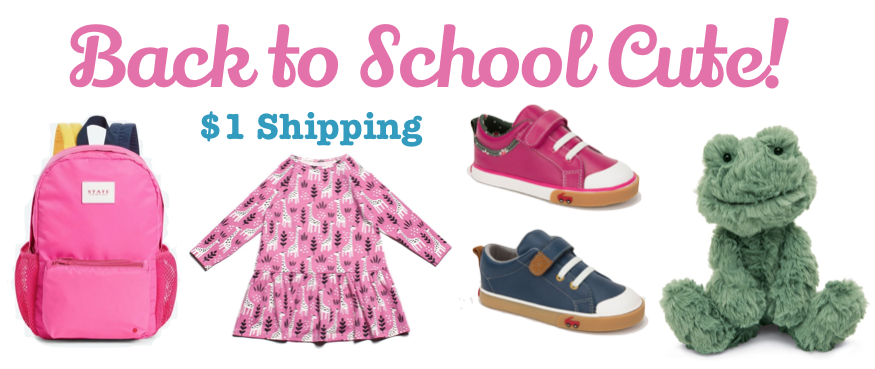 April
Spring is in the air and we are loving what we have in store. 
Unicornsare still trending!  How rock star is this little outfit?

For boys, color is in!  We love the brights!

We can help you find the cutest baby giftand will wrap it up for you for free!

March
Still digging out!
Everyone enjoys a good snow day where you can stay home from work, spend quality time with your family and enjoy a tasty cup of hot chocolate. But when the snow holds an entire city back from the morning commute and daily life, local businesses are forced to close for the day. Luckily today the snow did not keep our shop closed.
The Boston Business Journal, reported that the past three Nor'easters alone will have an $850 million to $950 million impact on Massachusetts businesses. I could not believe this statistic until I thought about all of our neighbors who were forced to close and stay home for the day. Restaurants, retailers, etc. - almost everyone closed. Just one storm dramatically affects us and all of our small business friends.  
We hear every day how important shopping small is to our customers so we know you know how vital small businesses are to the local economy and local vibrancy! When the streets clear up, step outside and visit your favorite local spots in the area. No matter what you're shopping for, by just getting out there, you are helping the local economy and we will all be happy to see you!
Here is a list of some of our favorite spots we will be dropping by this week. If you have not met them yet, this is your chance to go say hi and check out what they have to offer:
Need a new spring cut or color? Check out Best of Boston- Salon Capri. Lucia says to ask for Graziella!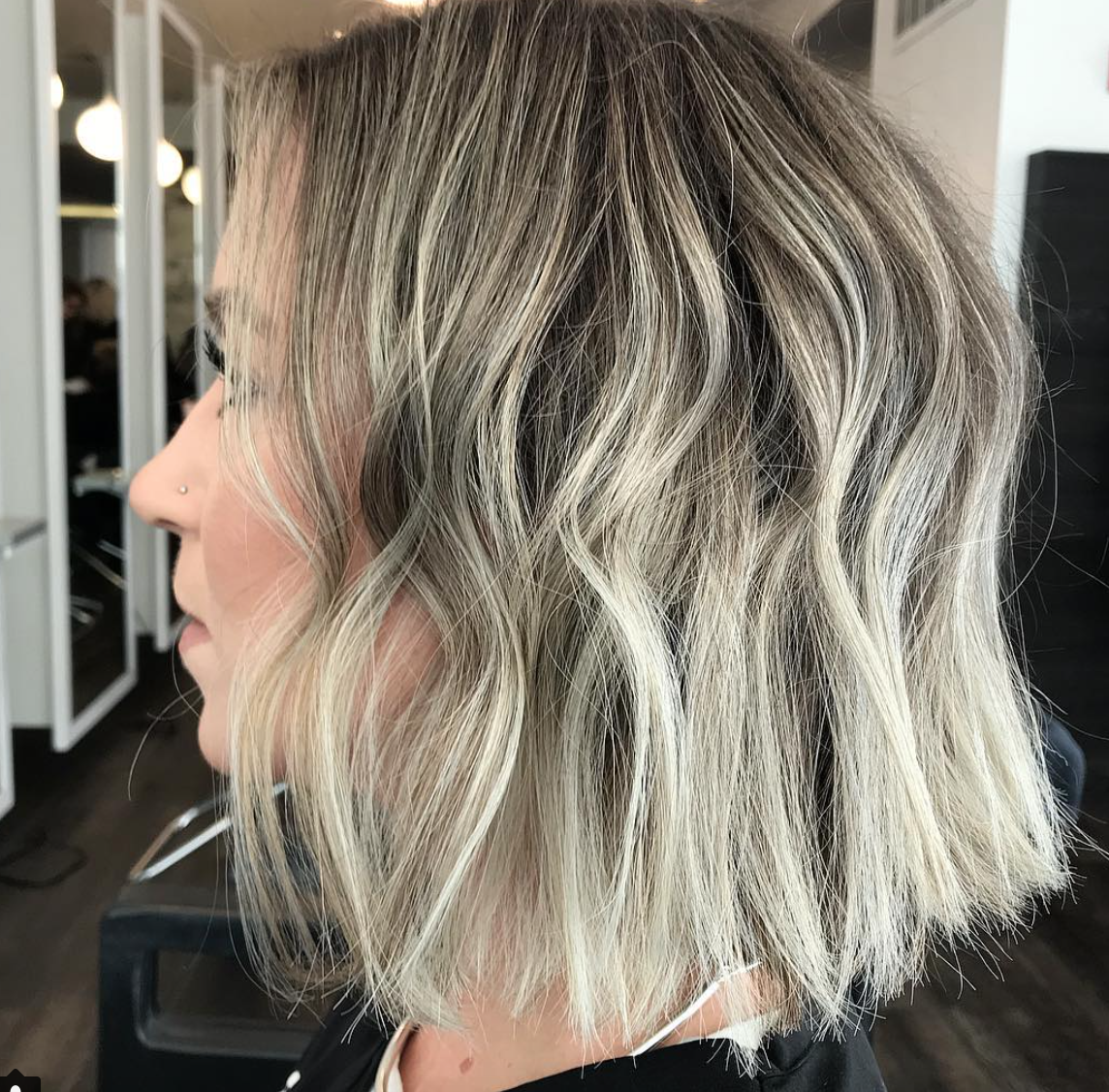 We love Magic Beans! Pop in to see us & then head over to Magic Beans- our neighbors in both locations! Such a great spot to find kids toys, strollers, car seats and everything to fill your nursery to welcome your new baby.
Time for a wardrobe refresh?  Visit our friends over at Mint Julep. With 2 locations, these BFF's are making us beautiful!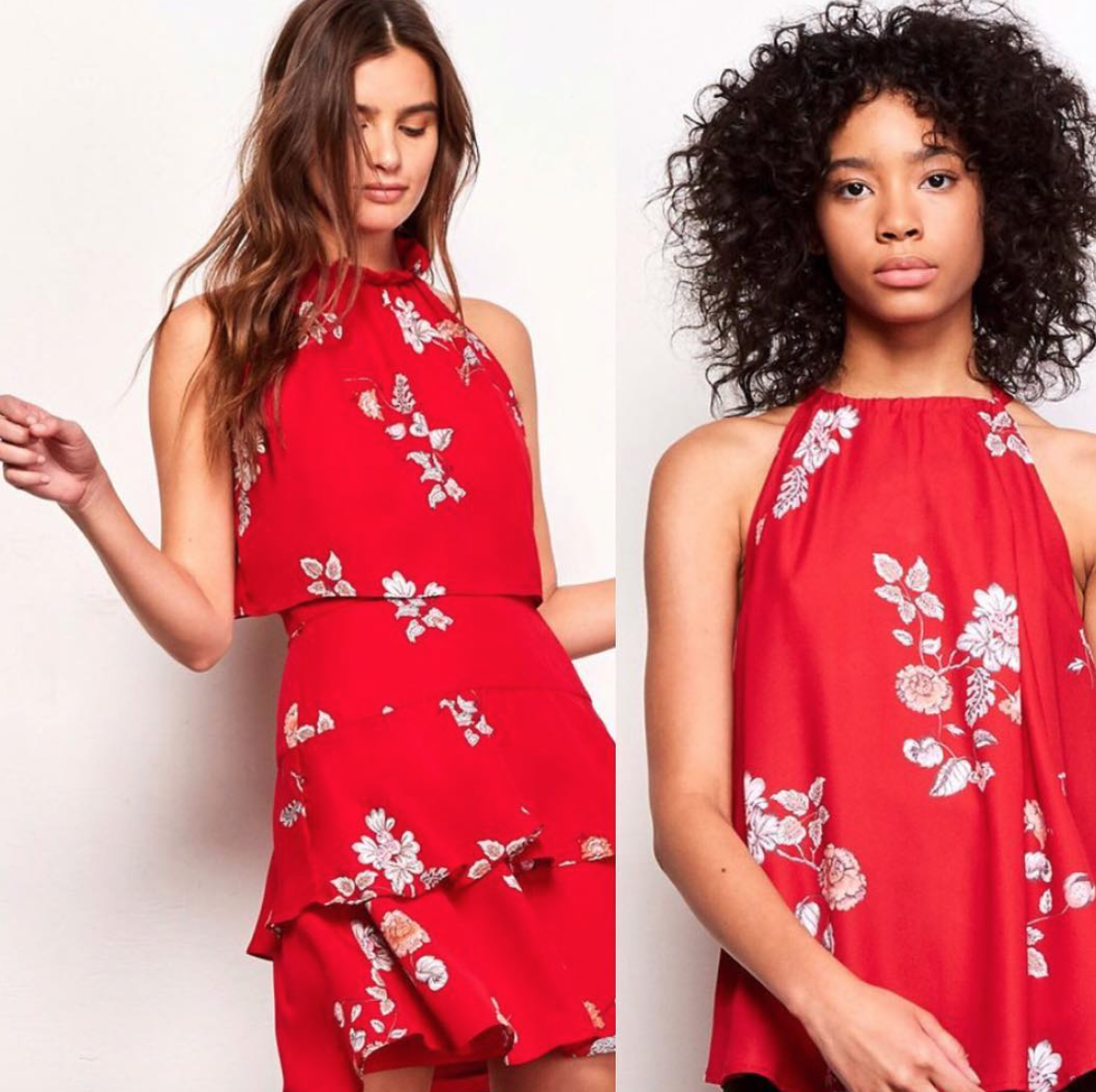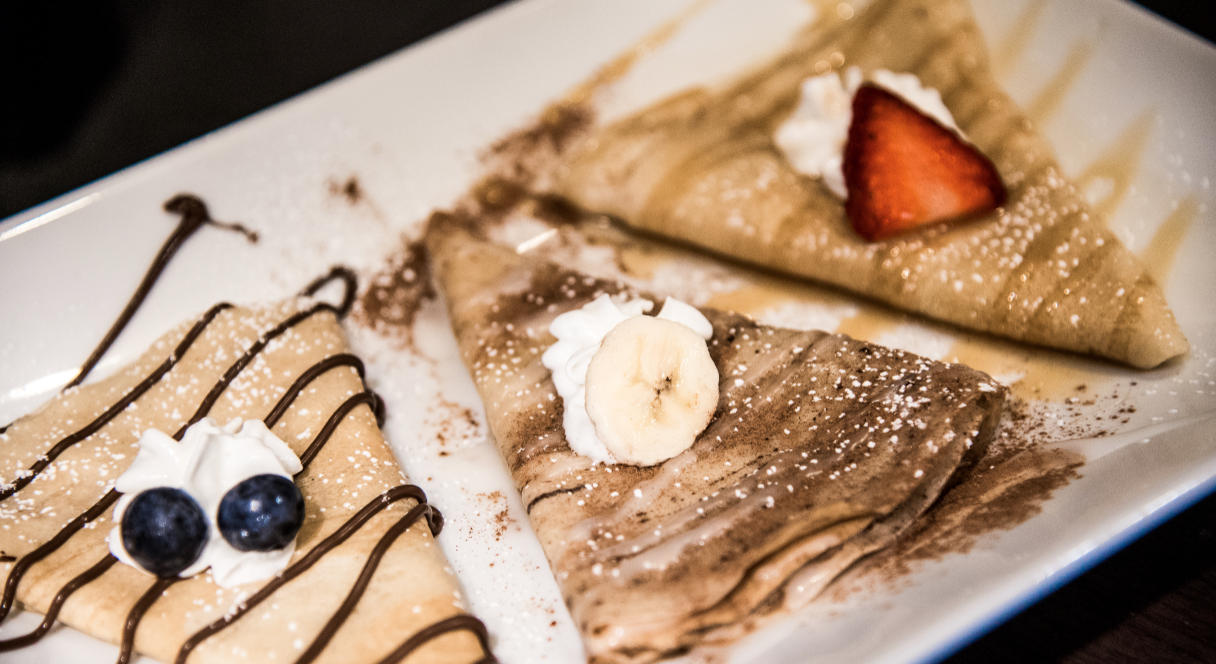 January

May 2017
So excited to be featured on Boston Voyager.  Read a little bit about our story!
We started Tiny Hanger Brookline in 2011. I was a social worker before this and it was time to go back to work so I thought why not open a kids store! It seemed easier than a full-time job and more fun…little did I know! My daughter was a few years old and I could not find fun, unique items for her around. I was finding the same brands at every store. Read More>>